Outreach to Our Teens at St. Dismas Church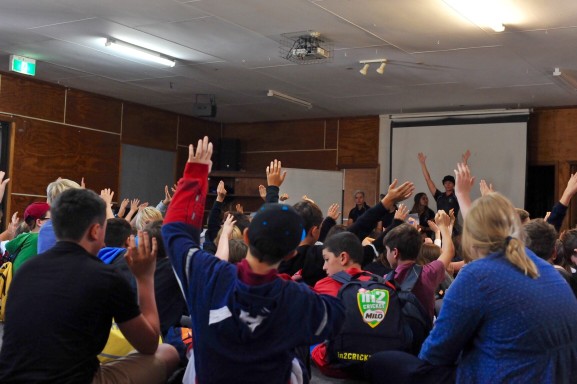 St. Dismas Church in Waukegan has experienced a positive impact from the Health and Wellness education programs provided by Advocate's Congregation Outreach, Health and Wellness Education Program. These programs have been especially helpful four our teens.
We tend to see children and seniors as vulnerable, but I think we are being a bit unfair with our teens. They are the future, we need to be sure they are not neglected and provide them with educational help and support.
The health and wellness programs provided four our teens have been an excellent source of information in helping them make educated choices. James Michehl, LCPC, shared at the Cyber education class to the youth, that it is interesting that even though our teens have the world right there at their fingertips (cell phones, iPads and computers), no one gives the time to properly inform them how to use these devices and alert them as to the many risks they are facing. For this reason, many teens fall into situations that put their well-being or even their life in danger. Even though schools are doing their part, there are some gaps that teens still fall through. Also, at the Media and Teens presentation, the teens had the opportunity to hear stories of situations in which not being careful with passwords or careless use of internet, such as giving out their personal information at some sites, can lead to Identity Theft. Another learning moment was when the youth realized, it is better to have a real friend than a virtual one, especially those who appear to be unconditional or willing to keep secrets…they are just wolves in sheep's skin.
Another presentation that was very interesting to the teens was Breaking the Silence. This presentation was well done, the teens were engaged and felt they were in a safe environment to learn and share. Some situations seemed familiar to them, some were new and funny. And still other scenarios surprised the youth and they felt they could identify with some of the situations. The presenter was excellent and provided examples to the youth that were easy to understand. We are a Catholic Youth Group. The presenter also included a faith-based engagement by asking the youth to share from the point of view of their Faith and its teachings.
At the end of the presentation, there was an opportunity for the teens to ask questions or share their thoughts. Though they rarely ask questions, this time, the teens had not only one, but several questions for the presenter.
This positive outcome made me feel very thankful and happy to know that somehow, we were connecting those with a need to those who were able to provide help. I was also happy to see the ice starting to melt for the teens who are starting to feel comfortable and asking questions, knowing that they will receive the help they need.
Thank you, Suzanne Martinez, Congregational Outreach. You and your team are awesome! I pray to God to bless you abundantly.