Helping Make End of Life a Time of Comfort and Peace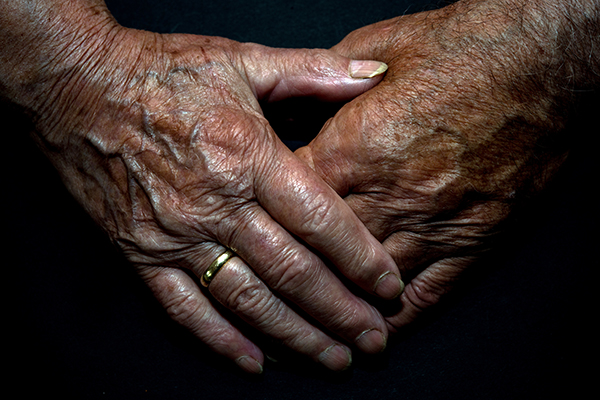 When a loved one is facing the end of life, you want to do everything you can to make this a time of comfort and peace. That's the mission of Advocate Hospice, too. Our hospice team is made up of skilled, compassionate caregivers who are committed to fulfill our mission to "Make Every Day Count," aiming to assure excellent end of life medical care with a focus on each patient and family's unique emotional, practical and spiritual needs.
See below for two stories that exemplify Advocate Hospice's impact on the patients and families we serve.
Compassion. Listening. Kindness.
Jeanne Laird says her husband was one of the healthiest people she knew. She explains that Tom, a dentist beloved by patients throughout the western suburbs, always took his health seriously. "He got regular checkups, stayed physically fit and watched his diet," she says. "So it was a shock when he experienced symptoms of a stroke. Though Tom survived, his brain was severely damaged and after a short time he experienced a very dramatic and swift decline."
Jeanne says the choice for her husband's care was less stressful because she had experienced hospice with several family members. "My grandmother and father benefitted from hospice and I knew what a blessing it could be," she says. Further, as a longtime employee of Advocate Health Care, having worked as both a hospital chaplain and a Patient Relations Specialist, Jeanne was very familiar with the care and support hospice provided.
"I knew we wanted hospice services for Tom," she says. "But I was still unprepared for the incredible care we all received from Advocate Hospice. Compassion. Listening. Kindness. These are just a few of the words that come to mind. And thoughtfulness… For example, at the end Tom didn't care much for food, but he loved it when his aide brought homemade Filipino dishes. He was also calmed by the soothing music played by his hospice chaplain. And, day after day, the tenderness shown by his wonderful nurse assured us that he was getting the best care possible. The fact that it came from Advocate Hospice, part of the organization I work for, made me especially proud."
"Help for Me, Hope for Others"
Their love story began in high school. "I met Diane on the first day of school more than 60 years ago," recalls Herb Fishman. "That was the beginning of our wonderful life together. We were married for 58 years and had three children and four grandchildren. When she passed away last year I felt like I had fallen into a well, into a dark and cold place that I 'd never be able to escape."
"Mrs. Fishman had been a patient at Advocate Hospice," says bereavement counselor Shane Villanueva, "When she passed away we reached out to Herb, as we do with all of our surviving loved ones, to let him know about the support provided by our Daybreak bereavement program." Herb says at first he said no. "Diane got wonderful care from Advocate Hospice, but I myself have never been much of a joiner. Still, Shane encouraged me to give it a try, and now I'm so glad he did. With his help and the support of others, I saw a ladder out of that deep dark well. Week by week, rung by rung, I have been able to climb out and go on living."
The Fishmans' experience exemplifies the important work of Advocate Hospice in caring for those facing the end of life and for those, like Herb, who are facing a different part of life—one without the person they have loved for so long. Through our Daybreak bereavement program, the loved ones left behind have access to a wide range of services, including individual grief counseling, group support, and special programs such as "handling the holidays."
"I know I wouldn't be where I am without Shane and the group support," says Herb. "I never miss a meeting. It helped me deal with my grief, and now I go so that I can offer some hope to others."