Feeding the Hungry with a Meal and Love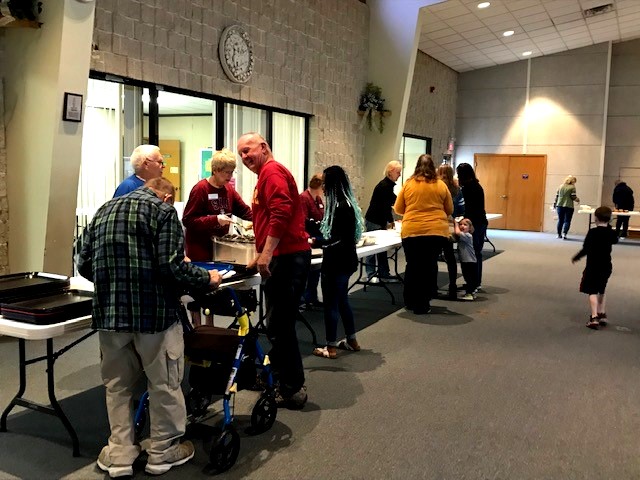 Meals are often where people meet each other and sometimes where they meet God. Joe D'Angelo, current leader of the Church of Holy Apostles' Community Kitchen Ministry, has observed this happening at the church's weekly Monday night community meal. This and the awareness of hunger in and around McHenry is the reason the church has opened its doors to provide the community with a free hot meal for anyone who is hungry, every Monday night for the past eight years. "A lot of need is hidden," shared D'Angelo, who has observed many people asking for help as a church volunteer and in the community.
One of our Catholic faith's core beliefs is the directive from Jesus himself to feed the hungry. Jesus fed the masses and gave himself to us in the Eucharist when he had supper with his disciples. Meals were an intimate way Jesus shared his love with people. "Part of our identity is making sure people who are hungry are fed because that's what Jesus would do," said Joan Bochenski, a Community Kitchen volunteer. Providing food, serving a meal and sharing our time with each other shows our love and compassion. When food is shared with a welcoming smile or a hug, a concern is voiced if a regular diner is not there or is ill, a new friend is made…that is when we meet God, in the faces of both our diners and our volunteers,
The doors open every Monday at 5:30 PM with ample seating for diners. Making this possible are over 200 volunteers including servers and those who cook meals. "Unlike some soup kitchens of the past, guests at this Community Kitchen are not required to listen to a Christian message," said Bochenski, "but I hope that guests experience spiritual benefit from sharing a meal with others." Prayers are offered for all those present, both dinner guests and those who serve, and in thanks for the food generously provided.
People of all ages are invited. There is no need to make an advanced reservation…just come any Monday between 5:30 and 7 PM. "A person need not be homeless or low-income to join our meal," Bochenski added, "There is no charge for the meal but donations are welcome." Depending on what has been donated, guests are often also invited to take home food such as bread, vegetables from home gardens and non-perishable food. We are blessed to receive generous food and monetary donations from various community organizations, businesses and volunteers that allow our parish to offer this meal each week.
If you'd like to help, the best way is to donate cash or share your time. Cash is a helpful gift because our meal planners have ways to buy food and ingredients at a lower cost. And time, especially from people who have experience serving food to others, is gratefully accepted. "It will truly give you the opportunity to experience God's love firsthand," added Gabby Solis, Community Kitchen volunteer.
The Community Kitchen is a living sign of the Church of Holy's Apostles commitment to the McHenry community and to its Mission Statement that it is "a compassionate, welcoming and healthy family that strives to love God and serve others with respect and dignity."