Bethany Lutheran Church Community Outreach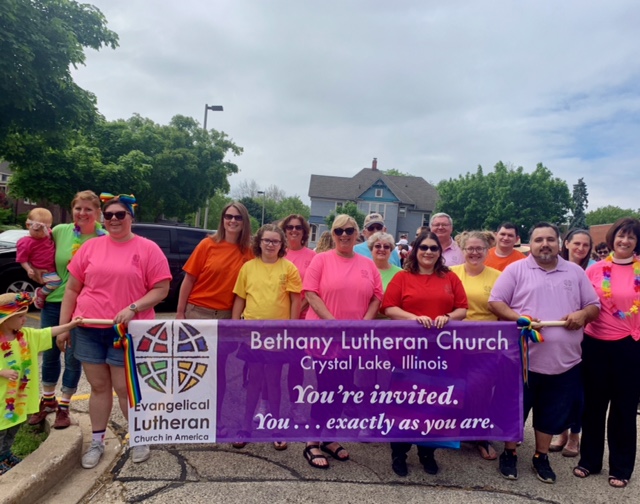 At Bethany Lutheran Church we have been connecting in the community since 1923, almost 100 years of caring and growing with Crystal Lake and McHenry County! Over time needs change and our ability to respond also changes. We connect and serve each other by offering a wide variety of educational growth opportunities from preschool age to seniors and from blessing of pets to blessing of confirmation students. We provide pastoral care when tender support is needed from one on one meetings, to home communion for the homebound, to meals for those healing. We come together "intergenerationally" to have fun from pie fests, to outdoor activities, to chili suppers and dramatic musicals.
We are a family in the biggest sense – full of different skills, personalities and stories coming together. When we come together in such a way, we can reach out further. Our community outreach includes such support as:
Good Samaritan ministries for short term financial assistance
homeless and hunger support; Veteran assistance
Interfaith Community for Detained Immigrants
family assistance program for back to school
Christmas gifts and Easter baskets
Crystal Lake Food Pantry
Heartland Blood Drives and support for Community Action Agency – Head Start.
We offer community fellowship opportunities through our Trunk or Treat program, Johnny Appleseed Pancake Breakfast, Bethany Art Series Concerts, Vacation Bible School and Music camps. We reach out to the world through our missionary support programs including support to three missionaries located around the globe as well as our partner parish in Kiutu, Tanzania.
We do not claim to have all the answers, but we do proclaim the good news of baptism for all! We celebrate communing with children of God (children of all ages!) and promise to walk with others on their journey toward health, healing and wholeness. At Bethany Lutheran Church we rejoice in a togetherness that tears down divisions and instead brings us together. We honor and glorify the Holy Spirit working within each one of us. For this reason, we say, "You are invited. You. . . exactly as you are!"