Thank you to Sherman Hospital!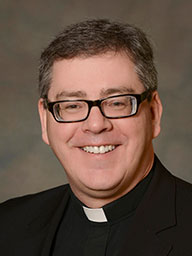 I am a Catholic priest in the Elgin area and I wanted to say thank you to Advocate Sherman Hospital and to the Chaplains serving there. My bishop chose me and some other priests to do the Anointing of the Sick, sometimes called "Last Rites," for patients suffering from COVID-19. Sherman Hospital in Elgin was open to letting us do this ministry, when other hospitals and nursing homes were not willing to allow us entry.
This newsletter gives me the opportunity to say thank you! I personally visited only about seven patients who were suffering from COVID-19, and who were close to death, but some of my fellow priests visited many more. I was also allowed to visit non-COVID-19 patients too when needed. The consolation given to a Catholic person by the Sacraments cannot be overstated. For a Catholic person to die without the Last Rites, when that ministry was requested, is a real tragedy and could be construed as a violation of their rights. Religious Freedom is something often remarked upon in the news these days, but a Catholic patient who is close to death and requesting the Last Rites – who is denied those Sacraments when a priest was willing to come, is a very concrete and easily understood example.
Sherman Hospital, meaning the Administration, Charge Nurses and Hospital Chaplains seemed to all work together under the obviously difficult circumstances to make sure their Catholic patients had access to clergy and the Sacraments they wanted. I personally benefitted from several Hospital Chaplains helping me with my protective gear so that I could enter a room with a COVID-19 patient and perform my ministry in a safe fashion. The Chaplains took their work very seriously and it appeared to me that they were highly integrated into the team at Sherman Hospital. I am pleased with the very professional and compassionate ministry of Sherman's Chaplains. Once again, I say "Thank You!"