Gracepointe Church Clothing Closet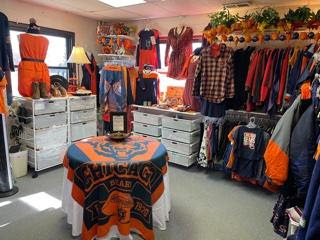 Through generous donations from church members, family and friends, the Gracepointe Clothing Closet shares the love of Christ by providing free, gently used clothing and household items to those in need. The Closet serves families in the Mundelein and surrounding area. Our families struggle due to hardship, limited means, language challenges and age. For some, assistance is temporary, and for the chronically financially insecure and elderly, the clothing and household items are a lifeline for survival.
While the Clothing Closet has been serving our community differently since September 2020 due to COVID (appointment only) we are open to clients on the second Saturday of each month serving about 17 families which means about 32 individuals!
We continue our tradition of opening the doors with a fresh and inviting theme each month that reflects the season. This summer we are featuring vibrant neon! And as always, we offer clothing and household items that are gently used, sometimes new, always clean, in working condition and displayed in an inviting gift shop setting to honor our guests.
We welcome your wonderful donations and are so blessed by friends and neighbors who donate. Please consider the Clothing Closet this winter when the temperature drops and the need for warm items goes up. Winter coats, boots, hats, scarves, mittens, blankets and any warm stuff you can think of is needed. If you have an extra winter coat you are no longer using, (clean with a working zipper) or you found a beauty on sale, consider donating.