Trusted Care in the Northwest Suburbs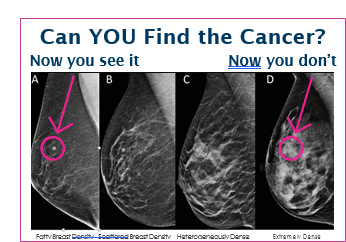 The Breast Care Centers at Advocate Good Shepherd Hospital, Advocate Condell and Advocate Sherman are committed to the prevention, early detection and treatment of breast cancer. We offer advanced technologies, specialized services and a sensitive staff specially trained in breast care so women can receive accurate answers about their breast health quickly and in a calming environment.
Advocate recommends annual screening mammograms beginning at age 40 for all women, following the long-standing recommendation from the American College of Radiology. If you have a personal or family history of breast cancer, including the BRCA gene, talk to your doctor about getting screened earlier.
Located in Barrington, Libertyville and Elgin the Breast Care Centers are dedicated to women's breast health and is recognized for providing more care to patients with advanced technology such as intraoperative radiation therapy (IORT). IORT is a treatment alternative for women that reduces radiation treatment time as the procedure is performed at the same time as a lumpectomy.
Commitment to Excellence
The Breast Care Centers have been awarded with a designation from the National Accreditation Program for Breast Centers (NAPBC), a program administered by the American College of Surgeons. As accredited NAPBC centers, our patients have access to:
Comprehensive care, including a full range of state-of-the-art services
A multidisciplinary team approach to coordinate the best treatment options
Information about ongoing clinical trials and new treatment options
Quality breast care close to home
Dense breast tissue: What it means to have dense breasts. Dense breast tissue is detected on a mammogram. Additional imaging tests are sometimes recommended for women with dense breasts. If a recent mammogram showed you have dense breast tissue, you may wonder what this means for your breast cancer risk.

The Radiologist that reads you mammogram will diagnose your breast tissue in one of four categories in relation to the density of your breast:
A: Almost entirely fatty indicates that the breasts are almost entirely composed of fat. About 1 in 10 women has this result.
B: Scattered/Slightly dense indicates there are some scattered areas of density, but the majority of the breast tissue is non-dense. About 4 in 10 women have this result.
C: Moderately/Heterogeneously dense indicates that there are some areas of non-dense tissue, but that the majority of the breast tissue is dense. About 4 in 10 women have this result. Additional Imaging may be recommended.
D: Extremely dense indicates that nearly all of the breast tissue is dense. About 1 in 10 women has this result. Additional Imaging may be recommended.
Speak to your provider if you have Moderately/Heterogeneously or Extremely dense for recommended additional testing.