Atrial Fibrillation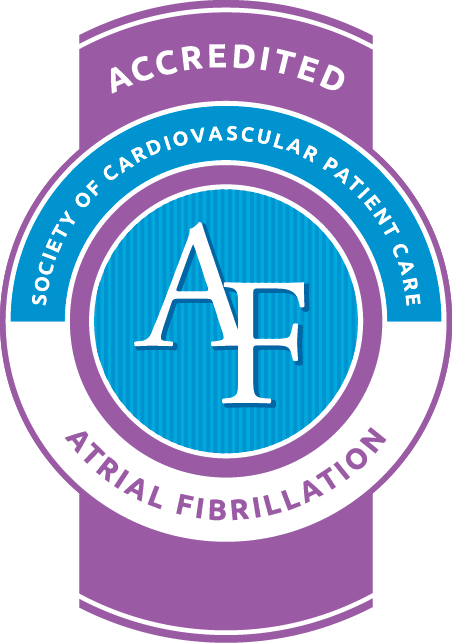 In 2015 Advocate Good Shepherd Hospital became the 18th hospital in the United States, and one of the only hospitals in Illinois, to achieve Excellence in Atrial Fibrillation Care accreditation by the Society of Cardiovascular Patient Care. Earning this certification required collaboration among cardiologists, nursing and ancillary staff, and administration to overcome the variability in care and lack of compliance with evidence based guidelines used to treat AFib patients throughout the country.
Dr. Sunil Kadakia is a Board Certified physician in Internal Medicine, General Cardiology and Interventional Cardiology. He is Chairman of the hospital's Cardiology Section, the Medical Director for Cardiovascular Services and Cath Lab at Advocate Good Shepherd and is a Certified Physician Executive.
Dr. Irina Staicu is the founder and Director of the Vascular and Vein program affiliated with the hospital. She is a Board Certified physician in Internal Medicine, Invasive Cardiology and Nuclear Cardiology. She is one of the first physicians to achieve Diplomat status in Venous and Lymphatic Medicine and is also a certified physician for vascular interpretation, giving her the comprehensive knowledge of the diagnostic technologies required for the most advanced vascular and vein diagnoses.
Dr. Kadakia and Dr. Staicu have extensive expertise in the safe, effective and patient-centered treatment of all types of cardiovascular disease. They are committed partners with their patients and provide personalized care for each one.
It Is OK to Ask Your Doctor about:
ACEI/ARB at discharge
Assessment of thromboembolic risk factors
Beta blocker at discharge
Discharged on FDA approved anticoagulation therapy
PT/INR planned follow-up
Statin at discharge in A-fib patients with CAD, CVA/TIA, or PVD
Aldosterone antagonist at discharge with heart failure with decreased function.
Anticoagulation therapy education
Atrial fibrillation education
CHA2DS2-VASc score
Discharge heart rate < 110/bpm
Smoking cessation
Warfarin at discharge for valvular atrial fibrillation or atrial flutter patients