The Colors of Cancer (In My Eyes)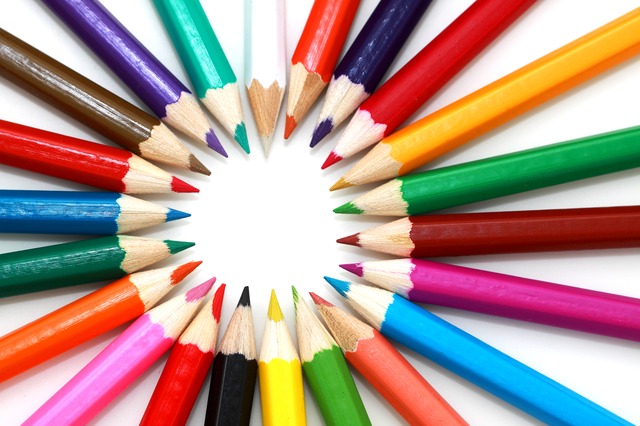 I had a chance to take personal time off during the Christmas holiday. Instead of seeing a scenic and beautiful landscape at the Grand Canyon in AZ, my husband and I decided to visit our foster family in Texas. What prompted the change is knowing that the matriarch of the family was diagnosed with cancer. That was our first visit back to the area after a sabbatical year there in 1995.
It was a gloomy Monday morning the week after Christmas when we landed in San Antonio. I was hoping the drive to Corpus Christi would offer us a bright sunny day with a chance of seeing some blue bonnet flowers along the highway. It was wishful thinking. They were nowhere to be found and the flooding had just started to dissipate in the Dallas area; the day remained gloomy and dark. They joked that we brought a cold front with us to Texas.
As a Christmas present, I received an Adult Coloring book from a cancer survivor in a support group I am part of. I took the coloring book with me and started coloring pictures every chance I had during the trip. Somehow, the coloring time provided us a time of silence, which my husband appreciated greatly after a hectic week of Christmas celebration and events in the church which he serves as a pastor.
During the trip, I was able to color 10 pages of the book using 16 colored pencils that were part of the gift. The colored pages inflated my ego; I felt like an artist as the pages became a masterpiece, a work of art similar to the design of a stained-glass window. Like the colors and designs in the book, I believe the colors of CANCER are just as complex, beautiful, fragile, intricate, bold, soft, bright, dark, cluttered, orderly, full of life and yet life-less as well.
A quote states, "Cancer is a word, not a sentence." Yet for most people, the diagnosis of cancer is like a death sentence. Like the colors I used, cancer becomes a multi-layered field of emotions and feelings that are real, genuine and true on the canvas of life. In my eyes, these are the Colors of Cancer, the colors that highlight the significant and powerful gifts and blessings I have received from my encounter with courageous cancer patients; names below have been changed to protect patient privacy.
I am reminded of the color green to represent Carla. Carla is 43. She lives in the Caribbean and directs an orphanage for the less fortunate and abandoned children. During a visit to the U.S., she found the time to do a mammogram. The test result was alarming and led her to receive radiation therapy. She mentioned to me that her visit plans were altered, and her "life was suspended if not totally put on hold." In the course of our conversation, she never failed to mention how she is missing the children and her work in the orphanage. Because of the children and her work, she promised to fight the disease and would remain hopeful. Green as a color denotes life: leaves, plants and the vastness of all vegetation. Like green that offers a fuller life, Carla approaches her disease with life and vigor. She went back to the orphanage and continued her mission to be with the children. Carla taught me that even when life is altered and interrupted, its vitality remains solid especially if one looks at life from the eyes of the children.
Angelo comes to mind when I think of the colors blue and indigo. Blue symbolizes patriotism and indigo denotes silence. Both of them represent deep-seated feelings. Angelo was a retired Air Force pilot when he was diagnosed with lung cancer. I was paged per his wife's request as Angelo expressed several times that he wanted to die. Angelo welcomed my presence and expressed the same thing to me. It was a spiritual journey for Angelo to express his wishes. It was a privilege to listen and sojourn with him, with his feelings and with his spiritual and theological puzzles. Like the colors blue and indigo, Angelo exhibited deep-seated feelings that one can only imagine. One feeling that stands out so profoundly was his sense of contentedness and peace. As a person vested with words, the longest visit I have with a patient is when I need to be in the "largest area in the world", which is silence. Angelo was brought home and eventually died. His deep feelings and embrace of silence taught me to express and create my own.
Naomi ended several months of chemotherapy very recently. At her last day of treatment, she invited the Cancer Care Team to be there alongside with her family and friends; not to say goodbye, but primarily to say "thank you and till we meet again." A bell is mounted on the wall at the lobby of the Cancer Center. It was a gift in memory of someone who "fought a good fight" in his own battle of cancer. Presently, the bell invites patients to ring it at the last day of their regimented treatments, an act so profound and powerful to many. On her way to the lobby, Naomi danced with gaiety and warmth. I told myself, Naomi is so consistent, always bright and sunny like the color yellow. I remember the first time I visited her on the clinical floor, her bed was covered with a quilt sheet made by her daughter. The room she occupied during her hospital stays was always filled with warmth and joyful images that invited everyone to enjoy life to its fullest in the midst of a very challenging disease. On that day, she put a happy-face sticker on my cheek. I left it on for the rest of the day in the hospital and even to a "College of Clergy" meeting that Friday evening. As I washed my face for the night, I removed the sticker, looked at the mirror and smiled. Though I don't accessorize myself with the color yellow, I love it because its warmth and gaiety are on my face and heart. Naomi added more of both.
Violet, the color of royalty and power, wisdom and authority reminds me of Charity. I love this color in my stole because it contrasts sharply with my black or white robe when I am behind the pulpit; its meaning and significance as a liturgical color make it even more dignified. For indeed, the One who is to come during Advent, Christmas and Lenten seasons (in my Christian tradition), is truly royal, full of wisdom and authority. My friend of twenty-five years died of breast cancer after diagnosed 17 months earlier. I first met Charity as a young professional, full of power and authority. She was the chair of the church council responsible for making the decision to take me on as an intern pastor. I did my internship and from then on our friendship blossomed and deepened as I was offered to be their pastor after my seminary training. Her illness caught me at a vulnerable time when I just started my role as an Oncology Chaplain here in the U.S and she was battling with this illness in the Philippines. Her death caused me pain and sadness. She told me via email and texts that she did not resign from her job even at the very end. Her royal demeanor, power and authority remain solid to me and to those whom she mentored as an educator par–excellence. I feel inspired to do no less.
One sad reality of Cancer is that it shatters an assumption that life is to hold and to keep. Suddenly, the disease confronts us differently. Very lately I asked myself, "Why does life have to be shortened at the age of 30?" Maybe I was grieving or in denial as I am aware that life can be taken anytime from womb to tomb.
Edna reminds me of courage and bravery, like the color red. In one of my visits, she asked me to pray for a young man whom she just met at a soccer game and who was diagnosed with cancer. She expressed mixed feelings of hope and sadness for this new friend. At first I wondered if these feelings were true for herself as well. Over time, it became evident that they were. Edna's life-sustaining blood (in red) constantly flows in the midst of incidences as her cancer increases. Edna has shown a heart for others, continuing to beat for a cure, for more time, for relief from suffering, until it stops. And it did stop for her. Edna reminded me to have a heart for others, to continue realizing that though I may expect to accomplish certain things in a lifetime, I must savor the moment as they come.
The gray color sky, strong wind and rain hung around all four days of our stay in Texas. At the same time, the orange tree and other citrus-bearing trees in the backyard of our host seem to be unbothered by the inclement weather during our visit. Every morning we had fresh squeezed orange juice at breakfast. Like the color orange, Regina is full of strength and vitality, both emotionally and spiritually. She remained undaunted by the storm and inclement weather that came her way. She insisted that I bring home calamansi (Filipino lime) which I managed to pack in my already full luggage. Like the color orange, Regina taught me that even though cancer draws people to the basic issues of life, to the core questions of one's existence, the strength to cope is beyond measure.
As I continue my professional practice as an Oncology Chaplain, I vow to be a faithful companion and listener to all who would come my way. If to "understand" is a task I have to take as a Chaplain, first, I need to "stand under" and look up to the horizon of beautiful colors of Carla, Angelo, Naomi, Charity, Edna and Regina - living colors and a testament that cancer is indeed limited for it cannot crush the human spirit.