Marijuana Committee: The Lake County Task Force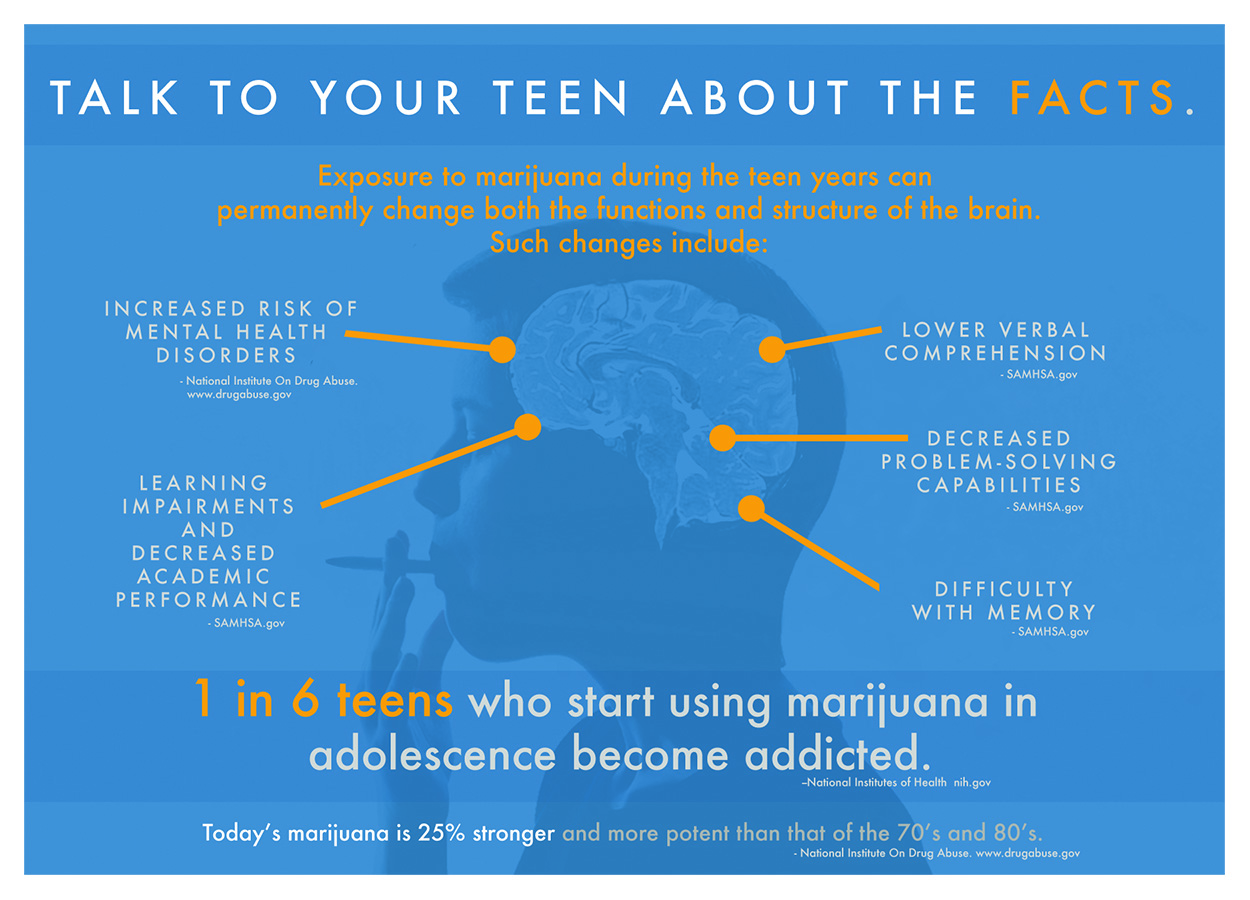 The Marijuana Committee of the Lake County Task Force is working with neighboring coalitions to combat the increasing misinformation in the community (and country) about marijuana use. Due to the constant changes in the legal landscape around marijuana, more and more teens believe that marijuana is safe. As this perception of harm decreases, teen use rates tend to climb. In turn, parents often do not know how to combat the pro-marijuana messaging with their teens. Thus, the Lake County Task Force is working with Stand Strong Coalition (serving Adlai E Stevenson High School); Stand UP Coalition (Mundelein and Carmel High Schools); Link Together (Wheeling Township), SpeakUP! (Lake Forest, Lake Bluff and Knollwood), Community--the Anti-Drug (Highland Park, Highwood, Bannockburn, Riverwoods, Deerfield) and Glenview Northbrook Coalition for Youth (Glenview and Northbrook) to get the message to parents and teens that marijuana is not safe for teens. The messaging focuses on the following main facts:
1 in 6 teens who start using marijuana in adolescence become addicted (NIH.gov)
The teen brain develops until age 25. Exposure to marijuana can negatively impact this process, possibly forever.
Exposure to marijuana in the teens years can reduce a teen's IQ by up to 8 points. samhsa.org
Adolescents who use marijuana are at higher risk of addiction in their adult years AND at higher risk for other mental disorders, such as anxiety and schizophrenia. www.drugabuse.gov
Today's marijuana is 25% stronger and more potent than that of the 70s and 80s which makes the risk of addiction and interruption in brain development worse.
This coalition of coalitions has sent out postcards to 25,000 families in Lake and Cook Counties and they are currently working on creating 30 second videos to be shown at high schools across these counties.
Pope Francis and the Papal Statement:
In November of last year, the Pontifical Academy of Sciences, led by Pope Francis and Queen Silvia of Sweden, held a meeting at the Vatican with international experts to develop a global view of the current drug epidemic and to establish guidelines in hopes of reversing the trend. The Vatican just released its final statement on this important meeting. Stand Strong is hopeful that we can bring the details of the Statement, in a language that everyone can understand, to Catholic parishes in our community. In addition to the findings and recommendations of the Statement, we would also like to educate parishioners about local youth alcohol and drug use, data on risk and protective factors, as well as what parents, grandparents, religious leaders, etc., can do to help create a healthier community for our youth. Stand Strong is working with St Mary's of Vernon on a fall conference with their religious school. If any congregation is interested in working with Stand Strong on getting this information to congregants, please contact Jamie Epstein at [email protected].