Lake County Veterans and Family Services Foundation Partners with Community Care Givers to Support Veterans and their Families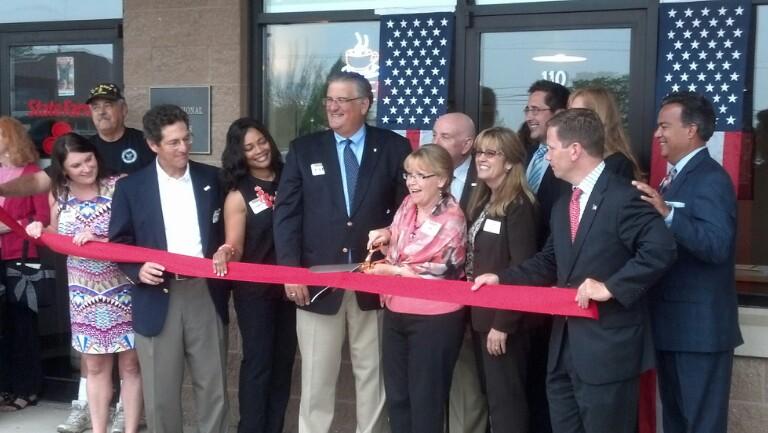 The Lake County Veterans and Family Services Foundation (LCVFSF), led by President Paul Baffico, was founded to ensure completion of a five-year federal grant program to provide services to the Lake-McHenry counties' military, veteran and family population.
Two years ago, in preparation for the grant completion, the foundation proudly opened its Dryhootch Drop-in Center in Grayslake to provide a non-governmental, safe and inviting place for coffee, conversation and activities. It's a "one-door" opening to the many resources available to Veterans, active service members and their families.
Dryhootch is a confidential, comfortable, convenient "port-in-the-storm". The all-Veteran, certified peer support specialists staff "buddy" with veterans and service members, walking with them on the path to wellness and helping them transition to civilian life.
Outside the center, LCVFSF works diligently to support Lake County-based military personnel and their families, including Fort Sheridan National Guard and Medical units and Great Lakes Naval personnel.
For example, the foundation participates in the Veterans Treatment and Assistance Court (VTAC) of the Lake County 19th Judicial District, which offers justice-involved military and Veterans a second chance -- an alternate track to jail and life with a conviction on one's record.
The Foundation also provides education on military culture and the effects of serving by hosting conferences for educators, clinicians, law enforcement, clergy and faith-based organizations. Through a generous partnership with Advocate Hospitals, hospital personnel also are active members of these conferences.
Working with the Lake County Suicide Prevention Task Force based in Waukegan, the foundation supports annual participation in the "Wauk for Awareness", bringing attention to the 22 Veterans a day who take their own lives.
The foundation also assists with the annual Veterans History Project, a Veterans Day event hosted by the 19th Judicial Court. On this day, Veterans tell their stories, which are captured by court reporters and become part of the Library of Congress archives.
This year, LCVFSF's Veteran Community Partner Network, consisting of partners who provide support services to the military population, was designated as the Northeast IL "MyVA" Community.
With ongoing collaboration with Veteran-supporting agencies at all levels, the foundation will continue to let those who have served, and their loved ones, know that Lake County has their backs. For more information, see our website, www.lakevetsfound.org.