A Life in the Day of a Screener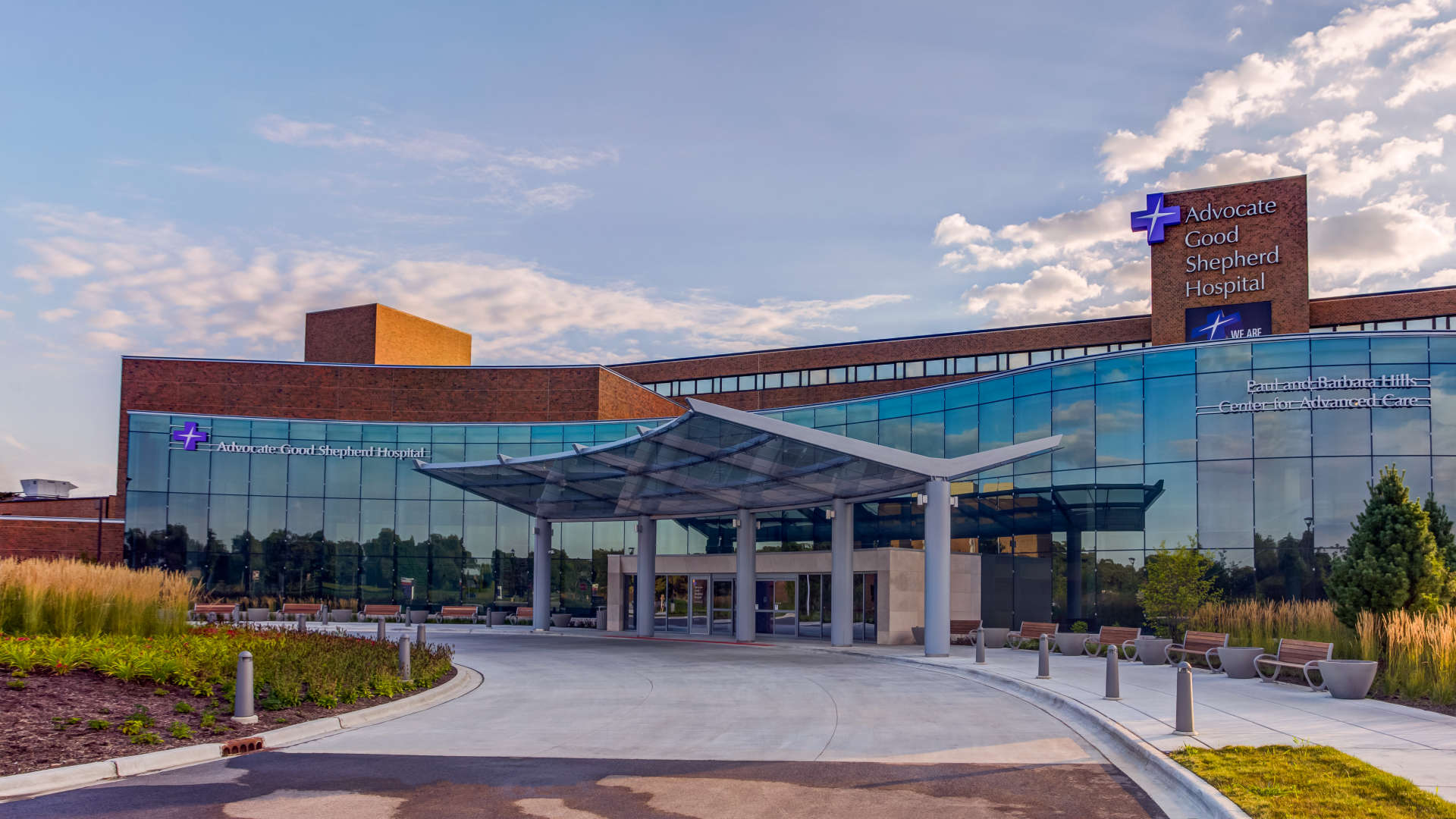 Winter is setting in. It is 5:30 a.m., and Good Shepherd Hospital's main entrance is reflecting back upon itself in the lobby's large glass windows, with the darkness outside and the lights within. Myriad sounds mingle in the background, especially the clicking and squeaking of the heels and soles of shoes. The ritual begins: Preparing the screener's table, wiping down, stocking up and positioning the PPE perfectly in all its assigned places—just as a clinical team member would prepare a surgical utility cart.
Ready, set and launch this morning with a silent prayer: "Bless us this day, in this place of healing," a plea and a promise of hope, as an ever-changing and transforming day begins to unfold.
The wristbands are lined up for the "hard hat team"—our amazing construction crew—as they begin to arrive. "Good morning" and "thank you for all you do," is my refrain, before and after the temperature checks and COVID-19 questions of safety are asked and answered. Though the questions are memorized, the dialogue isn't rote. Each word and syllable are heartfelt, intentional, caring and anticipating of each response. As I write their names on the wristbands, I try to memorize them so I can greet each worker by name the next time—that is simply what a team member does!
Headlights start to line the pathway of the entrance outside as surgical patients begin to arrive. Even behind my safety glasses and face mask, as a screener, I am determined to set our welcoming in motion . . . . And so the patients' stories begin, one life at a time.
I stand and greet our first patients. "Morning! Here for a test or procedure?"—A simple question to ensure the patient will proceed with the right mask, before checking in at registration. This simple start opens the opportunity for connection and caring. Sometimes the screener receives just a one-word response and at other times, the patient leaps at this moment to share and relieve the tension, worry or anxiety, as he or she imparts the reason for their presence.
It's a life in the day of a screener.
Creating the sacred space begins anew. I am not alone in this endeavor as a partnership forms with the Patient Relations team members, the valet and our amazing volunteers. Each contributes deeply to the care and support of our patients.
* * *
I stand to make eye contact as I begin the series of safety questions.
"It's 'no' to everything," says the patient. I clutch the thermometer to my heart with a slight bow, and, nevertheless, begin the process.
The patient pauses, then begins to nod or reply to one and the next and finally asks, "Aren't you tired of asking those questions?"
"No" I reply, "I never tire of caring for your safety."
"You know something?" he replies, "I believe you."
"May I take your temperature?" I say.
"Of course, thank you."
I ask for permission each and every time I take their temperature, knowing that even this minor action is abrupt, the pointing and crossing into the patient's space. This small gesture of request makes all the difference.
* * *
A couple arrive.
"Procedure" states the patient, and, almost simultaneously, "surgery" says her husband, as his tears begin.
"He cannot stay with me, right?" says the patient.
"We will take good care of you," I tell them, "a team of us are at the ready. Please, step this way, I've designated this space before your final check-in at the desk. We need your prayers and reassurances" I tell the husband.
A circle of love forms as they hold hands. He kisses her forehead and tugs at her mask.
We move swiftly to the front desk to confirm their vital and pertinent information, and their hands gently release. We do not leave her side as her husband and I walk her to the elevator and the next destination of her healing journey. He then begins to leave but suddenly doubles back.
"It meant everything for me to let her know that I'm with her."
"Yes," I reply," your love keeps you forever bound."
* * *
A team of student nurses arrive. This is their first day! They seem anxious yet excited to fulfill their requirements. With a pause in the steady stream of patient arrivals, I seize this opportunity to welcome them and let them know that Advocate is pleased to be a vital part of their learning. They've naturally formed a semi-circle of physical distance, with questions, wrist bands and temperature checks all around. At a further distance a designated space is provided for them to meet their lead nurse. My initial welcome flows with them as they engage in guidance for safety and the sharing of what this day of learning will hold. And their energy is that of hope.
* * *
Patient visitations begin. A visitor shares that he has come to be with his wife on this, their 25th wedding anniversary. Patient Relations assists me in connecting with his wife's nurse to share this news—and the team effort continues as the staff creates an impromptu anniversary surprise celebration with party favors they have kept on hand in the unit. A moment of anxiety is transformed into a beautiful memory.
* * *
A teary woman is waiting in line to be screened.
She reaches me, and ever so gently I inquire, "How can I help?"
She asks if I speak Spanish and I respond, "Estoy aqui para usted."—I am here for you.
As we proceed through the screening, she shares that she has come for a family member who took his own life, and that she did not know how she would manage. With the help of Patient Relations who called to confirm the number of visitors the family could have, we also ensured that a chaplain would be present for them. The clinical staff, clergy and our team supported this family in pain at their most needful moment.
* * *
Flowing through the stream of patients and visitors are real life stories. Some are heard, becoming known and some reside in silence. Every time we touch or are touched, every time we connect with a patient, visitor or team member, we are given the opportunity to provide our genuine presence, caring and compassion to every individual—For each is a life in the day of a screener.