Nicasa, Behavioral Health Services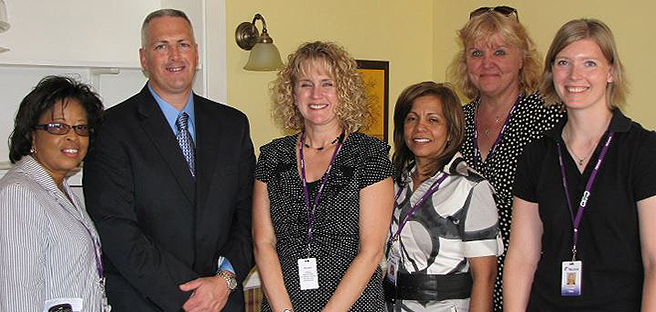 Since 1966, Nicasa, Behavioral Health Services has served children, adults, and families in Lake County and northern Illinois who struggle with a variety of challenges including substance abuse, gambling, family instability and/or mental illness. Nicasa focuses its work through prevention, early intervention, treatment, and recovery.
Nicasa serves people from eight Lake County locations, which include: Bridge House – a halfway recovery home for adult men and women; the Judy H. Fried Center – an intensive family reunification and advocacy facility in North Chicago; an administrative, prevention, and counseling center in Round Lake; a counseling and prevention facility located in Waukegan; and counseling facilities in Buffalo Grove, Highland Park, Mundelein, and Zion.
Every year, Nicasa treats approximately 5,500 people for substance abuse, mental health or gambling and offers hundreds of hours of prevention and early intervention services to schools and communities. Nicasa services include substance abuse treatment programs, mental health counseling, gambling services, in-school and after-school programs, youth and family therapy, Teen Court, parent education, comprehensive women's behavioral health services and a residential halfway recovery home. Nicasa also provides services to families that do not have a substance abuse problem through its Family Advocacy Services. Counselors help families address any crises they are facing through case management, referrals to additional services, and counseling.
Nicasa is especially concerned with underage drinking and drug prevention. Alcohol is the most used drug by teens locally and nationally. According to the 2018 Illinois Youth Survey, the underage drinking rate for Lake County teens is higher than the national average. Eleven percent (11%) of 8th graders, 21% of 10th graders and 42% of 12th graders in Lake County reported using alcohol during the past 30 days. Compared to teens nationally as reported in the Monitoring the Future survey through the University of Michigan, 8% of 8th graders, 19% of 10th graders and 30% of 12th graders used alcohol. Alcohol remains one of the top drugs Nicasa counselors address with teen clients.
Community partnerships and coalition building are extremely important to Nicasa and to the prevention of teen substance use. Nicasa has been the fiscal agent for the Mundelein STAND-UP Task Force for the past nine years. STAND-UP is a community coalition that received a federal Drug-Free Communities grant to prevent teen alcohol and marijuana use among 6th -12th grade youth in Mundelein. STAND-UP's goals are to empower youth, educate parents, and engage the community. The Task Force utilizes a unique strategy that enlists the help from a variety of stakeholders representing various sections of the community such as parents, youth, schools, police department, health care providers, park district, businesses, social service agencies and local government. These partners work together to implement evidence-based programming to keep kids healthy and safe in Mundelein.
One of STAND-UP's key partners is Advocate Good Shepherd Hospital. Through this strong collaboration and expertise from Suzanne Martinez, Coordinator of Congregational Outreach in the Office for Mission and Spiritual Care, STAND-UP is able to educate more Mundelein parents and churches with the teen drug prevention message, as well as reach the larger Lake/northern Cook community. Highlighting a couple of programs from this past year, STAND-UP and Advocate organized a parent education night at two Mundelein middle schools to teach parents about the effects of teen drug use on the developing teen brain. Information included facts about the new trend among teens- vaping. Since 2016, the percentage of teens in Mundelein who reported vaping about doubled. As a part of the strategy to combat the use of vaping devices among teens, STAND-UP and Advocate organized these events to educate parents about the dangers vaping poses to teens. Advocate provided a bilingual substance abuse counselor both nights who presented the material in Spanish while an English presentation occurred simultaneously. After the presentations, parents walked through the "Stay Out of My Room" mock teen bedroom display that shows parents possible signs that their child might be using drugs, but that could be hidden in the bedroom.
Suzanne Martinez has been instrumental in organizing these events, as well as serving as a member of the STAND-UP Board of Directors. Very recently, STAND-UP incorporated as its own non-profit, 501c3 organization. Ms. Martinez has offered her experience and expertise in establishing as a non-profit. Lastly, in early 2019, STAND-UP and Advocate will collaborate with area coalitions to educate key community stakeholders about marijuana and youth. The event is a breakfast at Advocate Condell Hospital in Libertyville. The hospital graciously agreed to host the event in their conference space to accommodate local leaders. The groups have asked national experts to provide insight regarding the impact marijuana has on youth and local communities.
STAND-UP's data show that coalition work is effective. According to the Illinois Youth Survey, since 2008, the percentage of high school students who reported drinking alcohol during the past 30 days decreased by almost 30%– down from 38% in 2008 to 26.7% in 2018. In addition, binge drinking (4-5 drinks in one session) decreased from 28% of high school seniors who reported binge drinking during the past 2 weeks in 2008 down to 11% in 2018- an over 60% decrease. Similarly, fewer students are using marijuana this year than in years past. In 2008, 14% of 10th grade students reporting using marijuana compared to 8% in 2018. The largest decrease was for 12th grade marijuana use from 2010 to 2018. In 2010, 25% of 12th graders reported using marijuana compared to 15% in 2018.
Getting students involved in the cause is another reason why STAND-UP is successful. Megan Rastrelli, Mundelein High School Senior Class President and STAND-UP Student Leader says, "I joined STAND-UP because I wanted teenagers to understand that the decisions they make today can impact their life later on and I also wanted to give back to the community. One of my favorite experiences so far was the opportunity to connect with 6th grade camp students at the Mundelein Park District this past summer. We taught them about the health risks of drug use using a Jeopardy game, but I was surprised to learn how much information they already knew. Realizing that kids younger than me understand the risks of drugs and alcohol shows that our work isn't going unnoticed and that we are starting to make a difference in their lives. I encourage students to join STAND-UP because you learn about leadership and health and you can create positive change in our community."